Revision Rhinoplasty Consultation
If you are unsatisfied with the results of your rhinoplasty procedure, you may be thinking of having another procedure to address your aesthetic and/or functional concerns. However, before scheduling the actual surgery you will first need to arrange for a preoperative consultation with your revision rhinoplasty surgeon.
The Physical Exam
During your revision rhinoplasty consultation, the surgeon will first examine your nose and the results of your primary rhinoplasty procedure. The surgeon will also examine your skin as well as the inside and outside of the nose. He or she may use a high-definition scope to examine the support structures, the septum, the turbinates and any areas that may have collapsed. At this time the surgeon may look for potential donor cartilage to be used during your revision rhinoplasty procedure. In many cases the wall separating the right and left sides of nose (the septum) may be compromised and therefore may not be a good source of cartilage. As a result, your surgeon will likely need to search for other potential sources of donor cartilage, such as the ear.
The surgeon will also conduct an external examination, during which he or she will assess the following:
Irregularities
Asymmetries
Skin thickness
Collapsed areas or lack of cartilage and/or tip support structures
Tip ptosis (droopiness)
Nasal bumps
Tip definition
A hanging columella
Narrowing in the bony portion of the nose and/or nostrils
Asymmetries of the nostrils
Photos will be taken during the consultation as well. Computer imaging and a CT scan of the nose may be performed. A few tests may be ordered, such as lab tests including blood tests.
The physical exam helps the surgeon decide what type of changes are necessary as well as how your anatomical features (e.g., the thickness of your skin) may affect the outcome of the procedure. The exam will also help the surgeon assess functional issues (i.e., breathing).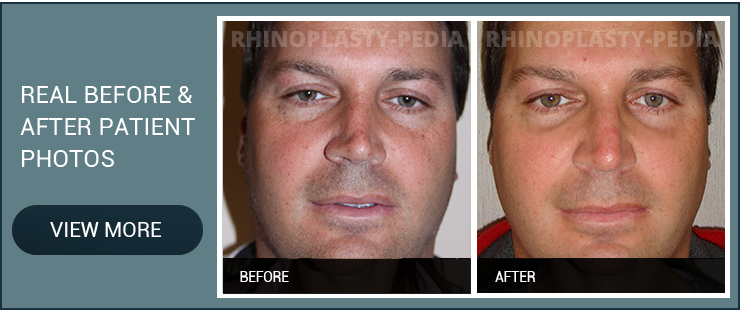 Assessing Your Candidacy
After performing the physical exam, the surgeon will listen to your goals and concerns and discuss details of the procedure, anesthesia, surgical approaches/options, probable outcomes, potential complications and other factors relating to revision rhinoplasty.
There are several things the surgeon must assess and/or scrutinize during your revision rhinoplasty consultation, including your medical history as well any medications you are taking, both of which will be discussed in detail. All of these assessments help your surgeon determine whether or not you are a good candidate for revision rhinoplasty. Generally speaking, good candidates are those who:
Are unsatisfied with the appearance of their nose after a primary rhinoplasty procedure
Are in good overall health
Have realistic expectations
Do not have too much scar tissue
Once your surgeon has determined that you are a good candidate, he or she will use 3D imaging to give you an idea of what your results should look like. Your surgeon may recommend additional procedures to complement your rhinoplasty, such as a chin implant.
Questions to Ask
During your revision rhinoplasty consultation, it is very important that you share with your surgeon any questions or concerns you may have. Here are some of the most important questions to ask your surgeon:
Were you specifically trained in facial plastic surgery?
How many years of facial plastic surgery training have you had?
Do you have hospital privileges for this procedure? At which hospitals?
Is your facility accredited by a recognized accrediting organization?
Is the facility state-licensed ?
Is the facility Medicare certified?
Am I a good candidate for revision rhinoplasty?
What can I do on my part to ensure the best results?
Where will the procedure be performed?
What technologies will be used during my procedure?
What surgical techniques do you suggest?
How long will the recovery period last
Will I need help from others during my recovery?
What are the risks and complications associated with revision rhinoplasty?
Should complications occur, how will they be handled?
Will my nose change in appearance as time goes on?
What are the options if I'm unsatisfied with the results of my revision rhinoplasty procedure?
Do you have before-and-after photos of revision rhinoplasty patients that I can view?
Do you have testimonials from revision rhinoplasty patients?
The revision rhinoplasty consultation is also the time to show the surgeon pictures of noses you like.
If you discuss all of your goals and like the 3D image the surgeon shows you of the nose post-surgery, then the procedure should bring you satisfaction. As long as you have selected a qualified, board certified facial plastic surgeon, this should be your last rhinoplasty procedure.