Finding a Septal Perforation Surgeon
Finding a good surgeon to perform your septal perforation procedure is no small task. The best septal perforation surgeons not only have extensive training and experience but also specialize in performing plastic surgery on the nose.
Moreover, even in the hands of the most skilled surgeons, the failure rate for septal perforation repair can be as high as 50-60 percent. Your results will depends on blood supply to the treated area, the size of the perforation and the cause. Note that some rhinoplasty specialists will not operate on cocaine users.
However, assuming you are a good candidate, if you do your homework and ask the right questions you should be able to find a skilled surgeon to perform your surgery. Here are some of the most important things to consider as you begin your search.
Certifications to Look For
The first thing to consider is board certification. More specifically, your surgeon should be board-certified by the American Board of Facial Plastic and Reconstructive Surgery (ABFPRS). To achieve board certification with the ABFPRS, a surgeon typically completes a residency in otolaryngology-head and neck surgery or, alternatively, in plastic surgery; both of these residences involve advanced training in procedures involving the septum, including septoplasty and septal perforation repair. Facial plastic surgeons are required to receive board certification from a board that is approved by either the American Board of Medical Specialties (ABMS) or the Royal College of Physicians and Surgeons of Canada. Facial plastic surgeons are also required to successfully complete the ABFPRS examination; hold approved licensure; and abide by the ABFPRS Code of Ethics. In addition, they are required to demonstrate a satisfactory record of clinical experience, including at least 100 facial plastic surgeries.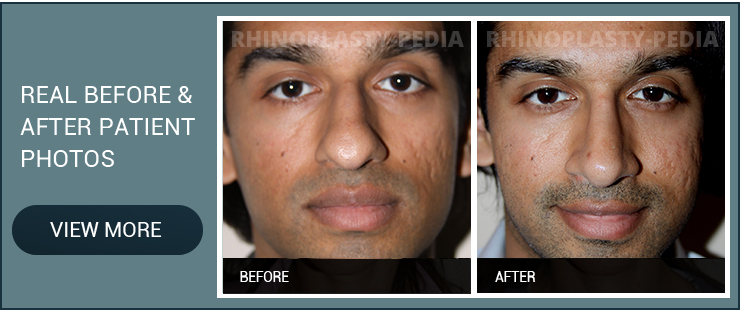 Qualities of a Good Septal Perforation Surgeon
It is also important that your surgeon has advanced knowledge of external and internal nasal structures, he or she should have experience operating on these structures. The surgeon should also have training in, and experience addressing, aesthetic as well as and functional concerns (e.g., breathing problems). By limiting your search to board-certified facial plastic surgeons you have a better chance of finding a surgeon with this experience.
Your surgeon should also have hospital privileges, which means the surgeon has first been approved by a hospital committee that has evaluated his or her education and training, among other things. Surgeons with hospital privileges have been vetted exhaustively before being approved for hospital privileges.
Another thing to look for is "Top Doctor" awards from publications and organizations in the field, as well as media appearances.
It is very important that the surgeon continually handles lots of cases. A good rule of thumb is one case or more each week.
The surgeon should also be able to demonstrate a dedication to patient safety and care. It's a good idea to ask if the surgeon has patient testimonials for you to review. Also ask if you can talk to former patients.
Try to assess whether the surgeon has a track record of good results, especially with septal perforation repair surgeries and other complex procedures.
Ask the surgeon if he or she uses state-of-the-art machinery and instrumentation, including 3D technology, which allows the surgeon to be more precise and helps ensure a shorter recovery period.
Depending on the cause of your septal perforation, it may be covered by your insurance carrier. Even if it is not, don't focus too much on the cost of the surgery. It is much more important to focus on the factors detailed on this page. If you feel that you cannot afford the cost, ask the surgeon about financing options.
Questions to Ask Before Selecting Your Surgeon
At your first appointment with your surgeon you will have the opportunity to air any questions you may have about the surgeon's education, training, board certifications and other qualifications. Consider asking the following questions:
Where did you go to medical school?
Where did you complete your residency?
Did you do any other fellowships or complete any additional training?
Which medical organizations are you a member of?
Am I a good candidate for septal repair surgery? Why or why not?
How long is the recovery?
What are the potential side effects?
Do you have a specific approach to the procedure?
What is the best way to prepare for surgery?
Where do you perform septal perforation repair?
Are you facilities accredited?
How long will I be off from work?
Do you have any before and after photos I can review?
Resources: Where to Find a Good Septal Perforation Surgeon
When you have finished conducting your research, you can locate a qualified facial plastic surgeon at the website of the American Academy of Facial Plastic and Reconstructive Surgery. Just look for the MD finder.